Our ways to make your MBMs a success
Make Minalogic Business Meetings one of your best business opportunities of 2024!

Complete your profile
and stand out
Filling out your profile on the platform is crucial. It will ensure that you get the highest possible acceptance rate for meetings. Log in and complete your profile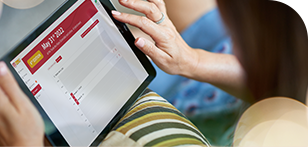 Take control of the business meetings platform
97%
of the participants were satisfied or very satisfied with the organisation of the event in 2023
How do the Minalogic Business Meetings work?

1

•

Register online
Create your profile and register now!

To maximize your chances of getting qualified meetings, we encourage you to fill out your profile with as much information as possible about your company and your expertise.

A well-filled profile is the first step to success!

2 • Request your BtoB meetings
One month before the event, check the list of attendees and send meeting requests to contacts of interest to you.
3

•

Accept or decline the requests sent to you:
All attendees are eligible to request meetings. The recipient must accept or decline the request.

4 • Receive your meeting schedule:
One week before the event, you will receive a schedule with meetings accepted by both parties
5

•

Last-minute meeting requests:
Make your meetings, develop your business through networking and attending conferences.